"I write about bold women, artists, and adventurers. I believe that outsiders deepen our understanding of the past. I am interested in then for what it tells us about now. I love my characters best when they become difficult, but still try to honour their everyday, human bonds."
Katherine's novels, short stories and anthologies of travel writing have been published around the English-speaking world and in translation since 1979. Evocative, timely fiction has alternated with historical novels about artists and others who were ahead of their time. She is renowned for her exceptional research and evocative settings, whether they be in Japan, off the coast of Atlantic Canada, in wartime London, Georgian Bay or the Rocky Mountains.
Her most recent novel is The Three Sisters Bar & Hotel. Her previous novel, The Ghost Brush, about the daughter of the Japanese printmaker Hokusai, was published in Japan and worldwide. An earlier novel, Creation, was a New York Times Notable Book of the Year. She has won the Toronto Book Award and Canada's Findley-Engel Award for a mid-career writer (1997). In 2018, she was honored for Excellence in the Arts by the Canadian Civil Liberties Association. In 2019, she was made a Member of the Order of Canada.
Active in her profession, and always committed to raising the voices of marginalized women, Katherine has been President of PEN Canada and Chair of The Writers' Trust. She co-founded the national schools writing program Writers in Electronic Residence and more recently founded, directed, and is Board Chair of The Shoe Project, a writing and public speaking workshop for immigrant and refugee women.
Katherine was born in Edmonton, Alberta, and attended The University of Alberta and York University. She has two adult children, Robin and Emily, and two grandchildren. With her partner Nick Rundall, a retired publisher, she divides her time between Toronto and Canmore, Alberta, in the Rocky Mountains. Her upcoming novel again features Katsushika Oei, a woman artist of the floating world, who rises from her unknown grave to discover what happened to her art during the Meiji era.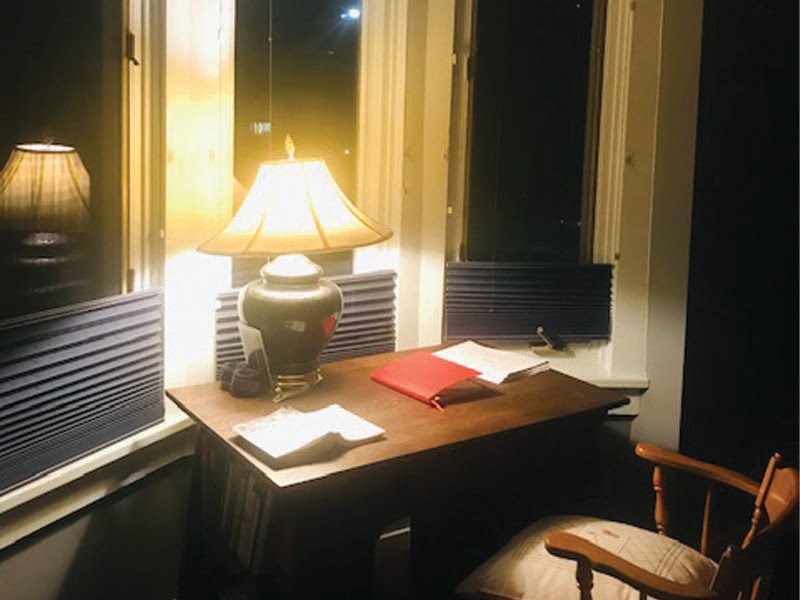 Timeline
The Three Sisters Bar and Hotel, A Novel
Half For You and Half For Me, An Anthology
The Printmaker's Daughter, A Novel
Harper Collins, US, 2011 A Harper Perennial paperback (published in Canada as The Ghost Brush)
The Ghost Brush, a novel
Harper Collins, 2010 (published in the US under the title The Printmaker's Daughter)
Three Views Of Crystal Water, a novel
4th Estate, London, 2005 Harper Collins, Toronto, 2005 Harper Perennial, Toronto and London, 2006
Solo: Writers on Pilgrimage, An Anthology
Stories by Margaret Atwood, Ivan Klima, Mark Kurlansky, Kate Grenville and others. McClelland and Stewart, Toronto Mondadori, Italy Mouria, Netherlands
Creation, a novel
Random House Canada, 2002 Overlook Press, New York, 2003 Vintage Canada, 2003
The Truth Teller, A Novel
Random House Canada, 2000 Vintage Canada, 2001
Angel Walk, A Novel
Little, Brown Canada, 1996 Little, Brown Canada, 1997; reprint – Vintage Canada, 2000
Without A Guide: Contemporary Women's Travel Adventures, An Anthology
MacFarlane, Walter & Ross, Toronto, 1994 Hungry Mind Press, U.S, 1996 Pandora UK, 1996 Bzztoh, Netherlands,1996
The Immaculate Conception Photography Gallery, Short Stories
Little, Brown Canada, 1994 Little, Brown Canada, 1995; reprint – Vintage Canada, 2000
Hearts Of Flame, A Novel
Viking Canada, 1991 Penguin Canada, 1992
Before and After, Short Stories
Viking Canada, 1989 Penguin Canada, 1990
Between Men, A Novel
Viking Canada, 1987 Penguin Canada, 1988 Viking U.K., 1988 Penguin U.K., 1988
Fables of Brunswick Avenue, Short Stories
Penguin Canada, 1985 Penguin U.K., 1986 Harper Perennial Canada, 2005
Going Through The Motions, A Novel
McClelland & Stewart, Toronto, 1982 St. Martins Press, New York, 1983 Seal Books, Toronto, 1983
Random Descent, A Novel
Macmillan of Canada, 1979, New American Library, 1980 Penguin Canada and U.K., 1986 Vintage Canada, 2000