Fables of Brunswick Avenue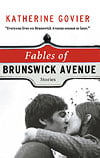 Fables of Brunswick Avenue
Penguin, 1985
Everyone lives on Brunswick Avenue sooner or later…
Some longer than most. If you've never actually found the apartment of your dreams on this downtown street where anything is possible, then you may do so yet.
Originally published in 1985, Fables of Brunswick Avenue is Katherine Govier's first collection of short stories, beloved by readers for its timeless portraits of lives and relationships in the throes of change. These sixteen stories – at once painful, ironic, joyful and sad – capture the turning points in the lives of aspiring dancers, writers, actors and professionals who have migrated to the city from points east or west. A restaurateur in "The Garden" collects look-alike waitresses but discovers that, as one, they resist his advances. In "Responding to Pain," a woman rescues a suicidal friend, only to realize that she is angry enough to kill her. The writer in the title story "Brunswick Avenue" comes to understand that her neighborhood is provisional, and in its draft stages, like her life. Finally, marriage and childbirth tie the Brunswick denizens firmly to the earth.
Infused with Govier's magical ability to conjure time and place, Fables of Brunswick Avenue is for everyone who has tried to find himself, or has found herself by starting over.